Second Annual Oneness Initiative Retreat this June 8 – 10, 2018
in Bar Harbor, Maine
This retreat provides participants with an opportunity to tap into the flow of life through humans' intrinsic connection with water. Activities include a whale watching trip, water-based meditation, coastal ecology 101, and animal communication sessions with whales, puffins, and more! See our website for more details: http://www.onenessinitiative.org/oi-retreat
---
Past Events…
Earth Day 2017
Friday, April 21 & Saturday, April 22
(Come to one day or both!)
Join us in an exploration of inter-connectedness: Inspiration for communication within our own sentience and with the sentience of animals, plants, earth and the universe.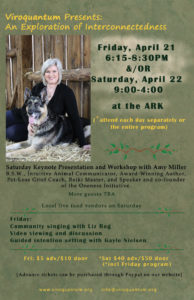 At: The ARK
401 E Jefferson St
Viroqua, WI 54665
http://www.thearkviroqua.org
Friday Evening Only (6:15 – 8:30):
($5 adv – $10 at door)
Community singing led by Liz Rog, video clip from Bioneers CEO and co-founder Kenny Ausubel, panel/community discussion on the video, guided intention setting by Gayle Nielsen.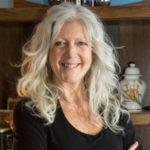 Gayle Nielsen is a Hypnotist, Certified Matrix Energetics Practitioner,  Kundalini Reiki Master and martial artist of over 30 years. With degrees in both Electro-Mechanical Technology and Visual Communications, and a corporate career in laboratory materials testing and Information Technology, she brings a solid science background to her work in understanding consciousness. She works with clients in private practice and group to access resource states where observable change takes place.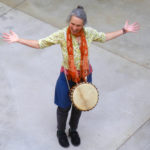 Since 2011 Liz Rog has led hundreds of song circles in the Midwest and beyond: at colleges, high schools, weddings, community centers, spirituality centers, neighborhood gatherings, and more. Liz hosts weekend-long outdoor singing gatherings in the Driftless, and teaches a popular class through the Driftless Folk School to help emerging community songleaders to hone their craft.
Keynote and workshop by Amy Miller of the Oneness Initiative



9:00 – 10:00am – Keynote: The Consciousness of Oneness 
1:00 – 4:00pm – Workshop: Sentience Integration Workshop
This workshop will dive into you as a sentient being. Participants will explore their personal sentient expression and how that expression mingles with world around them.  Workshop attendees will learn tools to enhance their personal sentience expression integrating a higher level of noticing, and a deeper level of awareness, connectivity and communication with all beings.
***
Amy Miller, B.S.W., Intuitive Animal Communicator, Award-Winning Author, Pet-Loss Grief Coach, Reiki Master, and Speaker, brings a unique balance of enthusiasm and expertise to the Oneness Initiative. Calling on her soul's passion,  and her intuitive gifts, Amy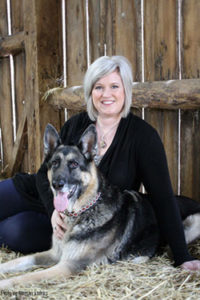 brings the voice of animals into the conversation of living in a way that powerfully and positively affects the lives of the animals and people she works with. As a long time oneness advocate and ambassador for conscious companionship with animals, Amy believes that how we engage with animals is essential to raising the vibrational energy of individuals, communities, and the world lifting our collective consciousness.
An avid reader and fierce possibiltrarian, Amy's infectious optimism combined with her social work background offers strong foundation for inspiring and empowering others to live in a connected and heart-centered way. A Wisconsin native Amy currently lives in Colorado with her German Shepherd Griffin.
To learn more about Amy and her work visit www.intuitionsllc.com


Presentation/Workshop with Ana Larramendi – The Hollow Bone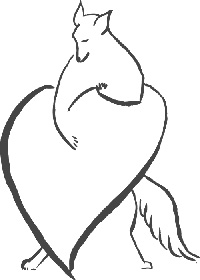 10:00am- Honoring the Nature Spirits and "Spirit of Place"
Presentation by Ana H. Larramendi
Indigenous peoples have long had a deep connection to all things of nature. To them everything is sacred. This comes from having a spiritual tradition that is based on Animism; the belief that all things have a "Spirit". If we look at nature through "Native Eyes" what do we perceive? Who or what are these animated beings of Earth, Fire, Water and Air? What are the spirits of plants and animals? Not only that, but places have spirits too! What are they, and how can we be in better relationship with them?  Together we will explore the Indigenous way of honoring Mother Earth and All our Relations. We will learn ways to practice perceiving the spirits of place and discuss how to be in "Ayni" (a state of reciprocity) with nature through sacred offerings. Learn practical things you can explore in your own back yard!
***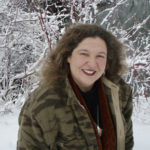 Ana Larramendi has been a shamanic practitioner since 1989 with a private healing practice in Madison, WI. She is an international teacher & guide, minister, public speaker, chef, Vision Quest guide, wilderness enthusiast, and ceremonialist who has studied with many teachers including Sandra Ingerman and Alberto Villoldo of the 4-Winds. Ana has studied the shamanic traditions of Tibetan Bön shamans, Mapuche shamans from Chile, Celtic traditions, Huichol shamanism and she is an initiated mesa carrier in the Inka tradition who studies with the Altomisayoqs of Peru.
Ana is a founding member of the Society for Shamanic Practitioners, www.shamansociety.org an organization created to support the re-emergence of using shamanism as a form of spiritual healing in our culture and integrating it with western medicine. She was a keynote presenter for the Society for Shamanic Practitioners first annual conference. Ana has been a lecturer for the University of Wisconsin Medical School, and the Madison Area Technical College.
Her ministerial service has included: working with prisoners at the Prairie Du Chien Correctional Institute, hospital visitations, working with the dying, presiding over memorial services, officiating weddings and supporting community ceremonies.
Ana has a full-time practice working privately with clients for personal healing as well as doing land and space clearings. She teaches numerous classes and is a public speaker and educator on shamanism. Her major focus at this time is teaching others shamanic land healing practices and deepening humanity's connection with the Earth and Nature.
Questions?  tickets@viroquantum.org